Brittany Ritchey
---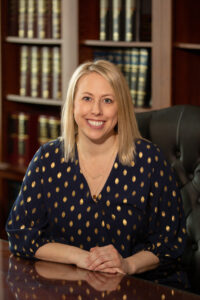 Paralegal
Upon graduating from Northern High School, Brittany attended HACC for Criminal
Justice and shifted her path to Paralegal Studies to receive her Paralegal
Degree/Certification in 2008. She started her career in Trusts, Investments, and Estates
in 2010 in Camp Hill, PA.
Brittany began working for the firm in 2019, and is also a licensed Pennsylvania Notary Public. She has experience working in Business Law, Civil Law, Estate Planning, Elder Law, Trusts, Probate/Estate Administration, Criminal Law and Family Law.
Brittany currently lives in Dillsburg with her two sons, and her two dogs. In her free time,
she enjoys kayaking, hiking, adventures with her boys, and escaping her hometown to
see new places.