Paul C. Siegrist
---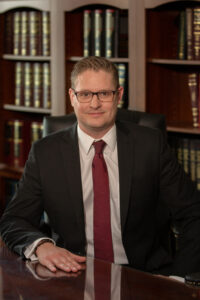 Counsel
About
In 2015 Paul Siegrist joined Stone, Wiley & Linsenbach, P.C. Since becoming a member of the
team, Mr. Siegrist has built a client-centered family law practice with a focus on child custody.
Mr. Siegrist's approach to the practice of family law focuses on compassion, fairness and the
best interest of the children. He takes time to listen the client's values and goals in order to
develop a plan that will lead to the best outcome.
Additionally, Mr. Siegrist practices criminal law. No case is too big or too small: whether it is a
minor traffic infraction or a felony, he will work diligently for you. Good people make mistakes
and he doesn't believe one bad decision should ruin a person's life.
Education
J.D., Widener University School of Law – Harrisburg 2008
B.A., York College of Pennsylvania 2005
Areas of Practice
Family Law
– Divorce
– Custody
– Mediation
– PFAs
– Separation Agreements
– Spousal/Child Support
Criminal Law
– Traffic Citations
– DUIs
– Misdemeanors
– Felonies