Duane Stone
---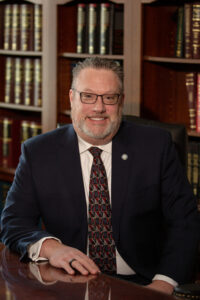 Managing Partner
Duane Stone saw the world and returned home to plant his roots, because he loves the people, culture and beauty of South-Central Pennsylvania.
Duane graduated from Big Spring High School located in Cumberland County, Pennsylvania, but instead of going straight to college he decided he should see the world and serve his country, so he joined the United States Navy. He served primarily on the USS Seattle (AOE-3), and participated in the Persian Gulf War, Peacekeeping in the Bosnian Civil War, Russian Coup De-escalation Operations and Caribbean Drug Interdiction Operations. He visited 13 countries, and received 13 medals and ribbons for his service. His primary duty was as the Legal Clerk for the ship's six-hundred-person crew. He helped conduct courts-martial and disciplinary proceedings, prepared estate plans, and advised the ship's Captain on legal issues, including International Law. Duane was honorably discharged from the U.S. Navy as a Yeoman Third Class Petty Officer.
Immediately after being discharged Duane studied history and political science at Elizabethtown College. While attending E-town, he served two years in the U.S. Naval Reserves until honorably discharged. E-town College was more than the pursuit of academic knowledge, it was an experience. He married his longtime sweetheart; fought and defeated Hodgkin's disease (a type of cancer); and won the "George Bloom Award" from the Finnegan Fellowship Foundation. As a Finnegan Fellow, he, worked for two summers in the Office of Policy Development for the Department of Public Welfare, and helped "kicked off" the "Governor's Disability Agenda." In 1993, he graduated cum laude (top 15%) with a Bachelor of Arts degree.
After graduating Duane decided to pursue his goal of becoming an attorney. He chose to go to the Syracuse University College of Law, where he received a Dean's Scholar Scholarship. In his first year he was part of a select group that not only learned the basics of U.S. law, but international law as well. While in law school he decided he wanted to help people create and establish businesses, and to protect their hard-earned assets. In his first law school summer he clerked for a local attorney working with Wills and Trusts. During his second year Duane was selected, through a writing competition, to be on The Digest, the Journal of the National Italian American Bar Association, as an Associate Editor. The following year he became the Assistant Managing Editor (the 2nd highest position). In addition, Duane clerked for a firm that specialized in civil litigation. During Duane's third year he became a judicial extern for the Honorable Thomas J. McAvoy, Federal District Judge for the Northern District of New York. While there he worked on habeus corpus writs, social security petitions, civil suits and election law.
After graduating Duane moved home to South Central Pennsylvania, passed the Pennsylvania bar exam and worked a few years for a local law firm where he gained valuable practical experience in business, corporate and non-profit law, contract drafting, nursing home law, collections and estate planning. Duane also began teaching Business Law for Elizabethtown College. After practicing law at a firm, Duane decided he needed practical business experience from the perspective of a major corporation for use in advising future clients, so he became an in-house counsel for Synertech Health System Solutions, LLC and AMISYS, LLC. There Duane learned the intricacies and balance between law and business. His tasks included drafting and negotiating contracts with Fortune 500 companies and local vendors, and giving advice on proposed business decisions and legal liability.
In 2004, Duane decided to open his law practice dedicated to assisting his clients in reaching their business potential and in preserving the assets they have worked so hard to obtain. His client base spans most of Pennsylvania and select clients throughout the United States.
Since inception, Duane has helped take the firm from a one man show to medium sized firm with a highly specialized and dedicated staff. The firm has grown into its new location on the main square Dillsburg. Duane has incorporated over 200 Corporations and limited liability companies. He has applied for and garnered numerous trademarks and copyrights. He has drafted about 1,000 estate plans, but who's counting. He has also preformed over 300 probates for his clients during their time of loss. Duane has always attempted to provide excellent service with conviction and compassion. He thoroughly loves helping his clients.
Duane was elected to the Northern York County School District's Board in 2012.  He was the Budget and Finance chair, which had been a great challenge due to the fiscal pressures of the economy, and the state and federal mandates. In 2015 Duane was appointed to be the Carroll Township Solicitor. He advised the Board of Supervisors and Carroll Township Police Department. He performed duties and advised on: Liability, Right to Know, Sunshine Act, MS4, Civil Rights, Parliamentary Procedures, Conditional Use, and other areas of municipal law. He also supervised all litigation of the Township. Duane has sat and sits on various other nonprofit boards where he attempts to assist in making the organizations grow and serve more individuals. In 2016 Duane became immersed in learning and caring for someone with severe Autism.  It has had a great impact on his thinking and practice.  He attempts to help his client's struggling with a child with special needs and the legality surrounding IEP's and Special Needs Trust amongst other governmental programs. In 2021, Duane was elected as a Trustee of the South Mountain Post 6771 VFW, so that he could help save the organization as it faced legal and operational challenges.
Duane attempts to live all of his life for Christ and occasionally teaches classes on budget and financing from God's perspective. Most importantly, Duane has celebrated his 26th Anniversary with his high school sweetheart and enjoys roughhousing and teaching his two young sons.
Practice Areas: Business Law (including contracts, restructure and corporations), Elder and Special Needs Law, Estate Planning, Home Owner Associations, Municipal Law, Probate/Estate Administration.
Additional areas: Debt Collections, Managing Home Owner Associations, some School Law.
Admitted: Pennsylvania Bar; Federal Bar for the Middle District of Pennsylvania.
Elected: School Director for Northern York County School District 2013-2015.
Appointed: Carroll Township Board of Supervisors Solicitor 2015 to present.
Boards: Member, Kyla Miller Foundation, 2008-2013 – Member, D'BANG 2009-2012, President 2015-2017 – Attorney for over 50 "S" Corporation boards – ARC of Pennsylvania 2009-2013.
Memberships: Pennsylvania State Association of Township Solicitors.
Law School: Syracuse University, J.D., 2000.
College: Elizabethtown College, B.A., cum laude, 1997. Pi Sigma Alpha, Phi Alpha Theta.
Biography: Adjunct Faculty, Elizabethtown College, Courses: Business Law, Legal Environment of Business, Constitutional Law. 2001-2014. Judicial Extern, Chief Judge Thomas J. McAvoy, Federal District Court, Northern District of New York, 1999-2000. Assistant Managing Editor, The Digest, The National Italian American Bar Association Journal, 1998-2000.
Finnegan Fellowship, George I. Bloom Award, 1995.
Military Medals, Ribbons and Awards 1989-1994.
Military: Honorable Discharged. Yeoman Third Class Petty Officer, U.S. Navy, 1989-1993; Legal Clerk, USS Seattle; Yeoman Third Class Petty Officer, U.S. Naval Reserves, 1993-1995.